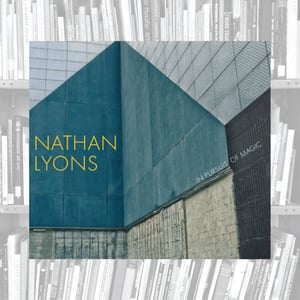 $

55.00
Nathan Lyons: In Pursuit of Magic PREORDER
Published in conjunction with the career retrospective at the George Eastman Museum with contributions by Jamie M. Allen, Lisa Hostetler, and Jessica S. McDonald
From the publisher:
"A moving retrospective of the revered photographer whose career as a curator, educator, and critic spanned more than half a century—and whose contributions to the craft of photography have left an enduring imprint.
Featuring more than two hundred and fifty compelling images, accompanied by critical essays, the book charts the distinct phases of Lyons's career. His early work, exemplified by his exuberant initiatives of the 1960s—the Visual Studies Workshop and the Society for Photographic Education—demonstrated that street photography and formalism are not mutually exclusive, as university photography courses began migrating from journalism to art departments. His final years, which included a shift to color at age eighty, are also explored in depth."
Preorders taken now, books to ship around February 11th.
2019, University of Texas Press and George Eastman Museum, 304 pages, 10.5 x 9.5, 90 color photos, 157 b&w photos, hardcover